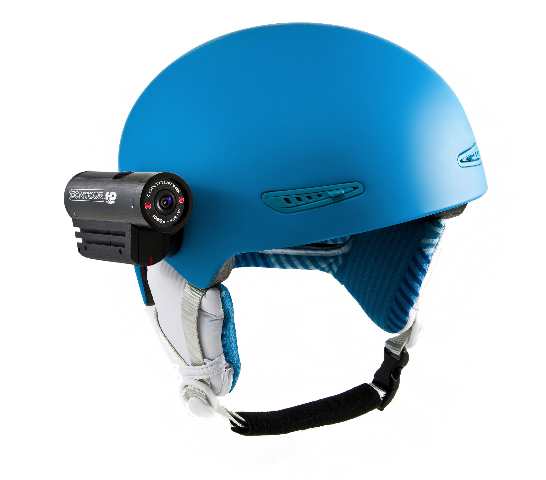 What to buy as a holiday gift? Here are a few suggestions from Mac Edtiion Radio for the holidays! This seasons favorite picks are both fun and about usability. So, here are some great choices for the folks on your naughty or nice list!
ContourHD 1080p Video Camera
A few years ago we tested a small helmet mounted video camera that was pretty cool, but ultimately it was limited by the limitation of standard definition video. A new model, Contour's new ContourHD 1080p helmet camera is a sports centered video camera which records in high-definition 1080p resolution and records to a MicroSD card and is Mac & Windows compatible.
The ContourHD 1080p is a winner according our to our guest reviewer Karl Staven, who is a hard-core urban cyclist and animator.
"Having had the pleasure of taking the tiny Contour HD 1080p camera out and about for a couple of weeks, I'm happy to announce that it's a fun mobile little HD machine. Whether strapping it to my hand, attaching it to my bike, or turning it into a post-Thanksgiving "dirty-dishes-cam", the little camera captured footage clearly and at HD size. The view has a bit of fish-eye distortion around the edges, and it records much better in daylight than interiors, but it is easy to use to capture and download movies. I've shot several 40-minute bicycle commutes into Philadelphia and have had great results. While you wouldn't use this camera to shoot your Hollywood feature film, for home or b-roll use it's a lightweight blast."
To view Karl's post-Thanksgiving "dirty-dishes-cam" video, just visit this link: www.vimeo.com
To view Karl's "BikeCam 01" video shot in Philadelphia, just visit this link: www.vimeo.com
To view Karl's "BikeCam 02" video shot in Philadelphia, video, just visit this link: www.vimeo.com
A Mac Edition Radio Holiday Pick.
For more information on the ContourHD 1080p please visit: www.vholdr.com
Sound ID 400 Bluetooth Headset
Over the past several years we have tested various Bluetooth headsets, and most were compromises. Balancing battery life, aesthetics and style, versus feel, weight, and sound quality. This year it seems like the early quirks and technology issues are pretty much solved, so current headsets are entering the refinement phase with designers able to concentrate on actual usability.


The new Sound ID 400 Bluetooth Headset strikes just such a balance. Sporting a minimalist aesthetic, with one of the lightest weights we have seen the unit's sound quality is outstanding. We tested it stuck in Southern California traffic, walking around on a busy street and a quiet cul-de-sac and in all situations the noise rejection was exemplary, and the audio quality for receiving calls was superior. The unit we tested shipped with an extra microphone allowing you to position the microphone with other people, situations, or even near a television or radio to listen in on a favorite show. It uses an in-the-ear design with ear loops to hold the headset in place. In our tests it held the unit in place, and even a serious shaking didn't disturb it. Coupled with its light weight it and comfort, it was easy to use for extended periods. 


The sound quality and noise rejection is controlled by a single button which increase and lowers the volume, but also activates several "Personal Sound Programs" which try to match the sound to the background noise so that speech is more intelligible. There are four modes, and while they all seemed to be effective, the "Moderate" mode seemed the one we liked the best. The only thing we felt missing from the package was a nice small case for the various components, charger, ear loops, and charging cable. 


We would also like to see more detailed instructions, since the provided guide reiterated the minimalist aesthetic a bit too much, so that without the reviewers guide, we were stuck for a while trying to get the second microphone to pair properly. Once we knew how to do it, it worked perfectly on the first try, but more documentation would be welcome. To be fair, you can find detailed instructions online, but a few extra lines in the quick start guide would be nice.


The Sound ID 400 Bluetooth Headset earned our praises for the combination of an elegant industrial design, superior fit and sound quality, and comfort.
A Mac Edition Radio Holiday Pick!


For more information on the Sound ID 400 please visit: www.soundid.com

Logitech Harmony 700
Most folks have a home entertainment that consists of components they purchased over several years of longer, from various manufacturers, and with the advent of Blu-ray, folks are adding yet another component to their systems. With current designs, a remote control isn't just a luxury for couch potatoes, without one, many of the settings and controls are inaccessible. A recent experience with a neighbor's dead remote really brought this home.
An unknown ("I didn't do it, I swear!") member of the family managed to destroy their remote for an aging Panasonic home theater system, so when I tried to help them get the surround system up and running, it was impossible. So, the mighty mom went out and purchased an inexpensive "universal" remote, and after 45 minutes of trying, I was able to get it to work with the unit, but only on a few controls. And I could only control a few settings. Luckily those were the one's I needed, but the remote wouldn't pair with a new HD TV they purchased, and it was clear that she needed to buy a better remote. Which one should they buy? Since we had just tested some new remotes, I knew just the answer, the Logitech Harmony 700 Universal Remote.
In the past we looked at other Logitech remotes including their Harmony 1000 that broke new ground for remote designs with it's large touch screen display and paved the way for future products. The Harmony 700 is not quite their entry level remote, but their lowest priced model with a color display. It can control up to six devices, and uses Logitech's activity based approach in use.
How this works in practice is that the remote must be programmed for a typical task or activity, such as watching TV. So, if you have a TV, a Digital Convertor box, and an AV receiver, this would mean that they all must be turned on in a specific order, then set to the proper input for the converter box, then the converter must be turned on, then the AV receiver must be turned on, set to the proper input, and output source, and finally then you can watch TV, and change channel! In this scheme, you must tell the remote that channels are changed via the converter, not the TV, and so on.
If you step back and look at this activity, it's actually quite complicated, yet we can do it manually in seconds, or do it via three or four remotes. This is where the idea of a "universal remote" comes in, although the majority of low-priced units control one device at a time, albeit with a single master remote. Logitech's approach was to start with what activities and actions were necessary to do normal tasks. So, watching TV, or a DVD, or listening to a CD or using the Tuner would all be activities that could be programmed. And once programmed, all you would need to do its select an activity and it would take care of the rest.
This works by plugging the remote into your computer, either a Mac or PC, and letting the software connect to the Logitech site, and the remote. It will update firmware in the remote, then using a wizard run through a slew of questions about your equipment, setup, and normal activities, and then it uploads that data to the remote, and then you fine tune the remote by testing the various functions.
I'm happy to report that on the systems we tested it on it worked wonderfully once it was programmed. The user manual suggested setting aside 45 minutes to program, which understated the time it took us. We found it took a couple of hours of setup, testing, reprogramming, testing, reprogramming, & testing, and so on. Even though the Logitech application and website has data on thousand's of electronic components, the remotes are not a perfect match, so that's where the fine tuning comes in. While the remote worked perfectly once we set it up, it took some serious effort to second guess the software and teach the Harmony remote the proper moves. Some of the problems that I had with an old AV receiver was that the buttons on the remote don't match the names given the functions in the software. So, I needed to point the two remotes at each other, and try to "teach" the Harmony about the functions and locations of the buttons. This was somewhat difficult since the terminology of the two devices and the website's suggestions didn't match up, so I had to make several guestimates on what matched what.
While I don't view the software or process as easy to use as I'd like, Logitech's library is astounding in it's depth, and even old, odd brands are supported. The next challenge would be to amp up their database of remotes, since when you are queried on your make and model, it doesn't extend to asking for precise product information on the remotes, and we've seen TVs, video decks, DVD decks, and receivers ship with different remotes for the same product, so gaining that information, if it's even possible to obtain, would simplify the process.
For the price, the remote is built well, and the color screen guiding your activity steps is clear and bright, and the buttons have a nice rubbery feel. One feature that is missing is a charging dock. At present, to charge the unit, you need to plug it into the supplied USB cable and charger. Then you use the unit, and when it needs a charge you hunt out the cable and charger and charge it up. Since even $20 cordless phones have a charging base, Logitech should have made it standard issue. If nothing else, it's a convenient way to store the unit, keeps one from losing cable and chargers, and looks nice. Some of the buttons could be larger, and differentiated a bit more, but those small tweaks aside, once it was set up all worked perfectly.
The Logitech Harmony brings order to a system with several components, from differing manufacturers, and its activity driven design makes it the only remote you will need, and it turns a normal activity like watching TV or a DVD into a one-button solution. A Mac Edition Radio Holiday Pick!
For more information on the Logitech Harmony 700 remote please visit: www.logitech.com

Keyboard Skins
The first time most of us saw keyboard skins were in older cash registers at restaurants or markets, designed to keep food, drinks, and other gunk out. They were utilitarian, did the job, and certainly didn't win any points for style.
For folks doing video editing, it was common to find expensive dedicated keyboards with keys color codes, and common commands on the keys. These were great for folks running AVID systems for example, and when Final Cut Pro and other apps hit the scene, there were more of those keyboards. They were great for productivity, but were pretty much a one-trick pony. Step forward and now you can find wonderful silicon rubber "skins" for style, productivity, and protection. After you use them for even a week, you can plainly see just how much gunk didn't make it into the keyboard. And if you have ever had to replace a keyboard, or spilled something (hopefully not a fine Scotch!) on a keyboard, then the inexpensive protection and added functionality a good skin provides is a bargain. Best of all, if the skins get dirty, just pop them in the sink for quick clean.
KB Covers
For productivity our favorites are from KB Covers. We tested a variety of covers from them that were designed for Adobe Photoshop CS4 that fit keyboards for MacBook Pros, old style Apple keyboards and the new thin models. All the skins fit like a glove, with a precise wrap around the keys and minimal shift when used. One great thing about these application specific skins is that they allow you to have all the ease of use and productivity of dedicated keyboards, with the flexibility to change skins in a second, and switch to another skin. Most of their skins are designed around creativity apps, and most popular apps are supported in formats to fit a variety of keyboards and laptops. Their newest cover is for Adobe Photoshop Lightroom, and is the first we have seen for Lightroom, so something to consider for the digital photographer in your life. The quality is great, they are easily transportable, and we found ourselves moving faster through Photoshop with them. With the increased complexity of apps, we are happy for the help KB Covers provide for a faster more efficient workflow. A Mac Edition Radio Holiday Pick!
For more information on KB Covers, visit: www.kbcovers.com



iSkin
When it comes to style, some of our favorites have come from iSkin, who manufacture skins for iPhones, iPods, BlackBerry's, laptops, and MacBook and MacBook Pro keyboards and mice. We tested several of their skins for the MacBook Pro, and our favorites were the ProTouch FX, and the ProTouch Vibes. There are many folks making skins, but what sets apart ®iSkins is their sense of style and quality. The skins are made of a high-grade silicon with a great fit and finish, and the FX and Vibes.
They feature an embedded Microban ® antimicrobial product, they should assist in keeping germs at bay, a definite boost during flu and cold season, or for computers used by family members, students, or co-workers. The main use of the Microban ® is to keep the skin cleaner and in our experience the skins maintained their looks, and didn't seem to get as dirty as skins we have used in the past.
Both of the skins we tested featured a pass through for backlit keyboards, with the FX featuring normal keyboard lettering with an option for several colors that highlight the key contrast while the Vibes sport hip fun colors and patterns. One thing we loved about the Vibes were the keyboard shortcuts included with the enlarged keyboard letters and numbers. iSkin included in the set they sent us, a cover for the Apple Mighty Mouse, which at first glance didn't seem all that necessary, that is until we used it for a spell. We have always found the Mighty Mouse a reasonable design that needed a bit of non-skid grip integrated into it. The ProTouch for Mighty Mouse solves this problem with a textured pattern skin that fits snugly onto the mouse and instantly transforms it into a much more pleasant and comfortable user experience, that left our hands less strained. A Mac Edition Radio Holiday Pick!
For more information on iSkin for Mac/PC visit: www.iskin.com
Storage and Memory Update
Storage and Memory needs continue to accelerate at ever increasing rates, whereas a 1 TB drive was an exotic piece of equipment a couple of years ago, now they are the standard with 2 TB drives fast becoming the choice for creative professionals. The drive world continues to consolidate, with two companies, Seagate/Maxtor and Western Digital dominating the storage landscape. Speed continues to increase, the cost of storage continues to drop, and amazingly we are seeing pocket drives in the 500GB and 1TB range! On the other side, consumers are creating vast amounts of data and need large amounts of fast affordable storage.
Seagate Free Agent Drives
Last year we noted that Seagate had further refined their line of FreeAgent drives. With a handsome and unique vertical design, and with models specifically designed for the Mac market, they are solid choices for storage. After a year of use, we found the FreeAgent Desk for Mac drives with FireWire 800 ports a great match for use with Time Machine, and the extra speed significantly cut down on the time needed for backups. In addition, the FireWire 800 connector has always been a huge improvement over the original FireWire 400 design, not only is it more secure, it doesn't seem to cause the "blown port" syndrome so common to early adopters of FireWire. Their original line of FreeAgent Pro desktop drives had a unique little port adapters that screwed into the base of the drives, allowing them to have USB 2 and e-SATA, or FireWire 800. The new design is simpler, with ports built into the drive, albeit you lose the e-SATA option. And over the past year we haven't missed the old modular design.
We continue to test the pocket drives we reviewed last year, and they have proven to be solid and stable. The FreeAgent Go for Mac is a beautifully designed pocket drive that boasts a fast FireWire 800 port, in addition to a USB 2 port for painless connection to your system. It ships with an accompanying dock, making it a snap to connect to your desktop system. It has a lovely clean, slim, contemporary design that gives Apple a run for the money in terms of design, with a slightly rubberized coating on the bottom and sides that feels great in your hand, with a brushed aluminum top plate with graceful curves.
From a speed standpoint, we found that FireWire 400 was clearly faster than USB 2.01, and the FireWire 800 was an improvement over FireWire 400, especially when using an application that required constant disc access. This year they added a fast 7200 RPM drive for their 500 GB model, and we have been using it day in and day out for several months. We are even more appreciative of their decision to equip the drive with every cable, dock, and a case so that you have all you need for portable storage.
We are running dual Seagate Barracuda "bare" drives in a mirrored configuration driven by SoftRaid. "Bare" drives are drives that are shipped without any cases or accessories. Designed for either internal use, or do-it-yourself drive case installation, they have become increasingly popular as e-SATA drives, housed in inexpensive drive docks, or RAIDs such as the FirmTek SeriTek/2NE2 and SeriTek/5PM drive bay systems we reviewed last year. While bloggers were aflutter last Spring with a rare issue that affected a specific set of Seagate Barracuda drives, which was later corrected with a series of firmware updates, we never had any problem with our drives, which have always proven rock solid. We have learned that when you hear of drive problems, it's largely anecdotal, and typically is such a small sample of the drives out there, that while one shouldn't ignore it, the sky isn't falling either. Even Santa needs more storage! A Mac Edition Radio Holiday Pick!
For more information on Seagate drives visit: www.seagate.com
Ginger Chews - The Only Candy that Bites You Back!
We weren't sure if this should be listed under Hardware, Software, or Essentials, but we have found the perfect remedy to the January technology doldrums in the form of a pungent, pocket sized pick-me-up that is sure to add a spicy kick to any wintry day – Ginger Chews!
At a recent trade show, a colleague shared his package with us and we were hooked. These individually wrapped soft candy treats impart the sweet yet gentle fire with nuggets of real ginger, and have the side benefit of calming a queasy stomach so they are great for travelers. We were so taken with the unique, stimulating flavor of Original Ginger Chews, we immediately got in touch with the manufacturer, The Ginger People, who were kind enough to ship out a variety of samples of their different products, and we put our taste testers to work.
Spicy Apple Ginger Chews were a favorite – made with golden delicious apples, cinnamon and allspice – are full of flavor and reminiscent of a piece of warm apple pie. A wonderful after-dinner treat, Hot Coffee Ginger Chews combine real coffee with the warmth of ginger for a stimulating boost. And Peanut Ginger Chews blend the sweet ginger heat with nutty goodness, creating a satisfying taffy-like candy.
Two chews are 40 calories, and they will not only give you a little extra energy, but also are all natural and gluten free. From now on, they will be a permanent item in our carry-on bags and kitchen cupboards. In addition to making Ginger Chews, The Ginger People is "America's foremost supplier of all natural ginger ingredients and home to the most award-winning ginger brand," as well as being "passionate about all things ginger and committed to its virtues."As we all know, dealing with technology is more often than not a stressful experience, so instead of reaching for some junk food, try some Ginger Chews!
For more information on The Ginger People please visit: www.gingerpeople.com
FirmTek SeriTek/SpyderHUB
First there was SCSI, then ATA 33, then ATA 64, and an iteration or two later we now have Serial ATA, or SATA for short. For anyone serious about that magical combination of fast and cheap storage, SATA technology was a no-brainer. Soon an industry grew up around external solutions using docks, RAIDS, drive enclosures, and adapters. And we reviewed a couple from Firmtek last year.
There are only a couple of ways to take advantage of an external SATA or e-SATA solution since few manufacturers have chosen to integrate e-SATA slots into their computers, and the normal solution has to use an accessory card, either a PCI or ExpressCard/34 Adapter.
Unfortunately Apple removed the ExpressCard slot from all of their laptop models, and despite several years of requests by consumers and the press, their iMac line has no e-SATA port, nor do their Mac Mini's have a e-SATA port. The same holds true for many Windows machines. So, is there a way to use your e-SATA dock, drives, or RAID system with a machine that doesn't have a way to add e-SATA? What can you do if you were happily using your e-SATA drives with your laptop with an adapter card, and now if you upgrade to a new computer, what do you do with your investment in e-SATA?
The answer is a new generation of hubs that allow you to connect your e-SATA devices to your system via FireWire or USB. We tested the FirmTek SeriTex/SpyderHUB which allows one to connect up to two drives and connect them via FireWire 800. While this isn't as fast as using a native e-SATA port, we found it pretty speedy, especially using the FireWire 800 port.
One use that we didn't expect was that we could now boot from e-SATA drives by using the Spyder Hub via the FireWire port. The unit is bus powered, weighs 4 ounces, is a bit larger then a book of cards, so it's easy to travel with. Until manufacturers start including e-SATA ports on their systems and laptops, the FirmTek SeriTek/SpyderHUB is a great, easy to use solution, with some surprising benefits for backup, restore, and an expanded set of boot-drive options. A Mac Edition Holiday Pick!
For more information on the FirmTek SeriTek/SpyderHUB please visit: www.firmtek.com 

iDowell iBox UPS
Years back the common wisdom was to never shut off a computer, put the monitor (then a CRT) to sleep to preserve the screen, use a screensaver if necessary, but keep it on. Why? Well the power supplies in those older systems had their biggest drain when you started up a system, so do so would cause them to fail earlier. Even now, many systems are designed around falling asleep and not being turned on and off. Apple went so far as to almost hide the on-off button on computers since the iMac. While this is questionable in terms of the life of the system, or the continual drain on the electrical grid and in turn the environment, it does allow for "instant on" gratification. The other downside is that your system is now even more susceptible to voltage spikes, brownouts, power failures, and damage as a result.
IT professionals wouldn't even think of installing a server (or a desktop system for that matter) without a device known as a "Uninterruptible Power Supply" or UPS for short.
While so called "surge protectors" start at a couple of bucks and go up from there, and they can suppress voltage spikes, that's all they can do. Have a brownout and no amount of surge protection will save your system. Lose the power, and your system just dies on the spot, possibly taking data or your hard drives with it, especially if you are in the middle of a data transfer. UPS to the rescue. Starting at under $100 you can find models that provide protection from spikes and surges, and their internal batteries will keep your system up and running as if nothing happened. Hopefully if the outage is brief, the system will keep running till the power is restored, or you can shut it down. The better systems work with your computer via the USB port to activate a "soft shutdown" so that the system shuts down gently, preserving your data. In the past we reviewed systems from APC and TrippLite which worked well and were well engineered for the most part, but whose batteries almost uniformly died in a few years, and with the exception of a model built to match the first generation iMac their looks were at best utilitarian.
At MacWorld Expo last year, a company called iDowell showed off their iBox and iPack UPS systems. What set them apart from others was their attention to design and their approach to battery replacement. Most of the time you have a UPS it's on the floor out of the way, or in the corner next to the socket, but you certainly didn't want to put it next to your beautifully designed iMac. Not so the iBox. Crafted out of a translucent white plastic, with a silver contrast, this is the first UPS we've seen that matched the attention to design as Apple. It's simple enough, plug it in, plug in the power cables to your components, and turn on the button on the front of the unit. The model we tested is the iBox and over the course of almost a year it's been rock solid, providing reliable backup power. Designed for the current load of an iMac, we tested it also with a MacPro and it was still solid, with shorter run times. We experienced a run-time from battery of 20-25 minutes depending upon how many accessories were supported, and now that the Mac OS supports UPS through Energy Saver, you don't even need third party software.
When I talked through the technical specs with the company, it was clear that their focus was not only on the design, but on the tech and energy specs and goals. There are lower priced units for the rating, but the iBox includes a sophisticated Automatic Voltage Regulation system that kept our test systems running fine during some pronounced voltage dips and fluctuations. According to the company the design of the system is intended to be as "green" as possible from the beginning, with an intelligent battery charging system that charges only when necessary, saving both energy and preserving the battery life so that replacements aren't needed as often. While there is often some discussion about how the Sine Wave is handled, with varying degrees of expense. The general thought is to have an actual sine wave, versus a simulated sine wave, and while in our experience with Mac's is that they have power supplies that don't seem to be bothered by much. Either way, the iBox has a Full Bridge Inverter, so a full sine wave is the result. We feel that every computer user should have a UPS in place to protect their systems, and the iDowell iBox comes highly recommended. A Mac Edition Radio Holiday Pick!
For more information on the iBox visit: www.idowell.eu
EyeTV Hybrid – Elgato
The idea of adding turning a computer into a television has been around for years, ranging from early PCI expansion slot tuner cards to the Apple Macintosh TV, and they all had one thing in common. They didn't work very well. A few years ago we started to review units that promised to turn your laptop or desktop computer into a TV and added the ability to record TV shows. The one thing that the successful units had in common was software from Elgato. While most of the companies sold hardware under their own name they licensed the core technology and software from Elgato.
Elgato manufacturers their own line of units, and we have consistently found them to be superb and trouble free devices. Last year they introduced an update to their software, EyeTV 3, which ships with their devices and which customers who own older versions can update to. We tested the EyeTV Hybrid USB stick with EyeTV 3 Digital TV Recorder software. The installation is straightforward, and once it's installed you run the setup assistant which creates an account for the download of local TV channels and content, and once that content is present you can use the software as a DVR, picking and choosing what shows to record, view, and schedule. The software allows you to edit the files, so you can delete commercials for example, and string together episodes. In fact the flexibility of the software is so feature rich that every time we use it, we discover yet another hidden gem. You can easily record a show, save it as HD video, or convert for use with your iPod, iPhone, or Sony PSP and archive to DVD or CD using Roxio Toast, just to list a few options.
To speed up video compression, we used the Elgato Turbo.264 HD Video Encoder Hardware. It looks similar to the Hybrid stick, and all you do is plug it into your USB port, and the when you start to compress a file say for iPhone use, the software senses the Turbo and offloads compression tasks to it. With a chipset specifically designed for compression, you save a chunk of time, with a very few artifacts to pay for it.
The Hybrid is self-powered by the USB port, and at a size not much larger then a lighter, easy to travel with. We found it far more useful then we expected, as we were able to watch a favorite show while working on the computer, and often we would want to watch an episode during a meal, so it was easy to put a laptop on the dinner table, launch EyeTV and watch the show! We were also testing some new portable digital TVs, and the EyeTV Hybrid was much better at capturing stations and locking them in. The recent launch of their eyeTV: iPhone App allows you to watch live video from your home Mac, as well as record shows, all on your iPhone or iPod Touch anywhere in the world.
Naturally you need to connect it to some sort of antenna or cable, and this is the one complaint we had about the unit, which is it didn't include a portable antenna, unlike Pinnacle or other units. We tested by borrowing a small portable antenna from a Pinnacle unit, as well as with a cable. For folks on the road, the freedom of plugging in a small little USB device, not much larger then a dongle, and be able to view TV programming, as well as record a show is a revelation. In operation it gets quite warm, and it takes a hit on the battery life if you aren't plugged in to a laptop.
We found the combination of Elgato's updated software and HD hardware a combination that will transform your use of your TV and your computer. With so many people switching from cable or satellite to capturing HD Digital TV off the air for free, the Elgato EyeTV Hybrid can also save money, an additional value in these tough economic times. A Mac Edition Radio Holiday Pick!


For more information on the Elgato EyeTV Hybrid visit: www.elgato.com
Kensington 4-Port USB Charger for Mobile Devices & Kensington ShareCentral 5
Kensington is known for a wide-range of computer related accessories that are too numerous to list. A couple of small by interesting devices caught our eye. The first is something not too glamorous but very useful. A 4 port USB charger. For travelers this is very cool, one charger to rule them all! With the 4-Port, you could charge your Bluetooth headset, an iPod, an iPhone, and with a USB to cell phone cable you could charge that as well, just for an idea. Small, compact and finished in solid black plastic, the 4-Port USB Charger for Mobile Devices is great gift for the Road Warrior in your midst.
For years we have been told that cable clutter would be a thing of the past. However, most attempts haven't worked out too well. Anyone remember the Apple Display Connector? It worked great on the Cube, but you still had a slew of other cables to contend with, and if you happened to have more then one system, that usually meant double the cables, constantly being plugged and unplugged.
If you have ever wanted to share USB components between two computers, but didn't need the display to be shared as would be the case with KVM switch, the Kensington ShareCentral 5 is the answer. A small, well-made (yes, black plastic) unit, you can share a printer between two computers without having to make changes as the unit supports automatic printer sharing. There are status lights and buttons with changeable graphics to make it clear what device is being selected, and up to 5 devices are supported.
Typically many of us have a desktop system and a laptop, and if you wanted to share a hard drive attached to the desktop and use with the laptop, you would need to dismount the hard drive, then pull the cable, than plug the cable into your laptop. In our tests, the unit worked perfectly, although on a Mac you needed to remember to dismount the drive before switching. Sharing a printer (unless you have one of the new wi-fi enabled printers) would require swapping a cable from your printer to your laptop. If you have two computers near each other, the ShareCentral 5 would allow both to easily share a scanner, printer, or hard drive without having to do this via a network or Network Attached Storage. Like most of the products Kensington makes, this is a solid, affordable, easy to use solution. Both are Mac Edition Holiday Picks!
For more information on the 4-Port USB Charger for Mobile Devices visit: www.kensington.com


For more information on the ShareCentral 5 visit: www.kensington.com

Thanks and Happy Holidays from Mac Edition Radio!
Harris Fogel, Nancy Burlan, & Frank Schramm, posted 12/10/2009