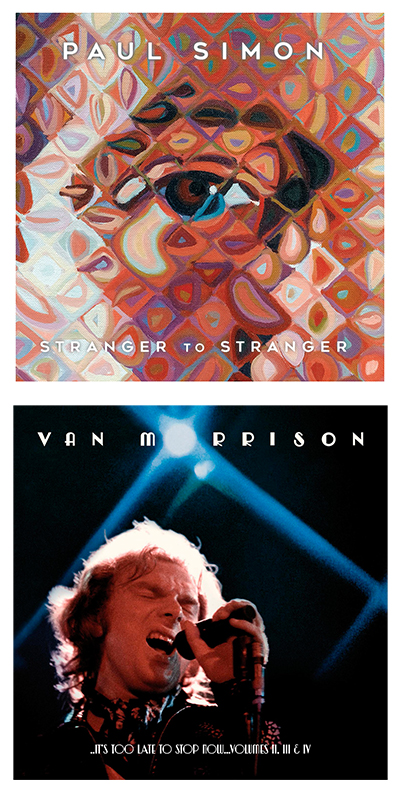 Summer's here and the time is right for high-resolution music! The continued releases of newly remastered music include some classic reissues and new releases. Here is a short list of some recent titles that we think sound great and fill your soul. The unexpected release of Van Morrison's "It's Too Late to Start Now" in expanded form, Paul Simon's "Stranger to Stranger", Bob Dylan's "Fallen Angels", "Santana" and The Clash's "London Falling" are great summer listening.
Van Morrison "It's Too Late to Stop Now, Volumes II, III, & IV"
For many people, the news that Van Morrison's classic live titles were not only being remastered in high resolution, but that an additional three albums worth of music was also being released was a dream long delayed. So, the arrival of the newly released Van Morrison "It's Too Late to Stop Now, Volumes II, III, & IV" is big news indeed. This is the first time recordings of these concerts have been released, and they were lovingly remixed from the master tapes, so represent the best possible audio quality, courtesy Sony/Legacy Records whose responsibility is the Sony and CBS back catalog and reissues. Many music fans consider the original release to be Morrison's best live recording, and among the best live albums in rock and roll, included in many best-of lists. With this new mix, Morrison's impassioned vocals, the punch and power of the New Caledonia Orchestra came through loud and clear.
The original title "It's Too Late to Stop Now, Volume I" has also been remastered in 24 bit audio, however as of this writing it's not been released in high-resolution form yet, but should be out soon according to Sony/Legacy. The original title wasn't remixed, but remastered, so the new CD version didn't sound to me significantly different than the excellent 2008 remaster. In fact I spent a good chunk of time comparing the new version on CD to the previous remastered version and found the difference very subtle. Hopefully when it's released on high-res, we will be able to see how that version fares. One difference is that "Brown Eyed Girl" was included in the 2008 remaster, but doesn't make the list on this new version. The music and performances of the new concerts are superb, and the audio quality is just extraordinary. The word was that everyone knew that the concerts were something special, so extra care was taken with the recording, and it shows through splendidly here on every track in this release from HD Tracks.
For more information on "It's Too Late to Stop Now, Volumes II, III, IV" from HD Tracks visit: www.hdtracks.com
Paul Simon "Stranger to Stranger"
Paul Simon, not content to just play the oldies circuit, proves once again what a national treasure he is. While many fans argue about his now iconic album "Graceland" with it's embrace of musical genres from around the globe and it's violation of the boycott, it shouldn't have come as a surprise as Simon embraced a global search for musical references in the Simon and Garfunkel "Bridge over Troubled Waters". Accordingly, his recent title, "Stranger to Stranger" includes a variety of musical genres, themes, and instrumentation. From the popular title "Wristband" to "The Werewolf" with it's gorgeous opening and recording production. The Deluxe version from HD Tracks also includes additional tracks including a live version of "Duncan" and an infectious performance by his band of Wristband." I fell in love with the live version of "Wristband" for its humor, percussive punch, and looseness. This is a solid title, with superb musicianship, prose, and delivery, and the recording does the material justice.
For more information on "Stranger to Stranger" from HD Tracks visit: www.hdtracks.com
Bob Dylan's "Fallen Angels"
If someone had told you that Bob Dylan would record "Young at Heart" forty years ago, you would have said "No Way!" it would be just impossible for the radical muse of Newport to do something so conventional. Just as implausible as Keith Richard as a public health role model, or Rod Stewart crooning American classics, or that Glen Campbell would sing Nirvana, Dylan taking on songs that have always moved him isn't such a radical or unexpected creative move. He is certainly in good company, when you consider Willie Nelson's stunning "Stardust" which despite opposition from his label turned out to be one of his bestsellers. "Fallen Angels" is a delightful album, a pleasure to relax and listen to. While having 24 bit/44.1kHz resolution of Dylan's voice might not be everyone's idea of a good time, this feels like sitting in a quiet and elegant small club, with a troubadour entertaining the guests. That seemingly effortless simplicity is the secret of this album, from "All the Way" to "It Had to be You" the recording, performance, with a country twang and beat, a tight and expressive backing band, the album is an unexpected and sincere effort, and the HD Tracks version has a lovely air to the recording (recorded at the legendary Capitol Recording Studios in Los Angeles) and a warmth that makes you want to just close your eyes and melt into a booth at your favorite watering hole, or dance with a loved one to candlelight.
For more information on "Fallen Angels" from HD Tracks visit: www.hdtracks.com
The Clash's "London Calling"
The high-res version The Clash's "London Calling" reinforces what legions of fans, critics, and musicians already knew in 1979, which was just how great a band The Clash were. Originally lumped together with the Sex Pistols, as an angry punk band from England, The Clash along with Joe Jackson and Elvis Costello really had nothing in common with the Sex Pistols, except for the energy and dissatisfaction with the polyester homogeneity of the 70s. What Costello, Jackson, and The Clash had in common were great songwriting, musical, and performance skills. "London Calling" was seen in the press as a rebellion against the Thatcher years, crouched in anthem tracks. But the film "Rude Boy" put the idea that these were unskilled musicians to rest, showing the band at work in the studio. This recent remaster from Sony/Legacy reinforces not only what a great album it is, but how well recorded it was. Listening to "Lost in the Supermarket" is a reminder of how much power a gently recorded song can punch, along with wonderful musicianship. "London Calling" is also a lot of fun, although with the Brexit vote part of history, "London Calling" in high-res from HD Tracks is the perfect statement on how far we have come, and how little we have learned from world events.
For more information on "London Calling" from HD Tracks visit: www.hdtracks.com
"Santana" & "Abraxas"
For a native Southern Californian nothing conjures up summer like the first Santana album released in 1969. Remastered in hi-res audio, the debut album of what was essentially a jam band, "Santana" has become a classic, from the hand-drawn cover art to the irresistible rhythms and percussion, the album just exudes positive energy. "Evil Ways," "Jingo," and "Soul Sacrifice" are now standards, and "Oye Como Va" and Peter Green's song "Black Magic Woman" from the follow-up effort "Abraxas" set the band into a greater musical consciousness. Whereas Latin music from pioneers such as Tito Puente were playing small rooms at rock bottom prices, the popularity of these albums helped elevate the genre to new levels of mainstream acceptance. It can be argued that Santana struggled for years to match the magic and energy of their debut albums, but Carlos Santana is still at it, and recently reassembled the old band for their latest release. Drawing upon rock, blues, jazz, and salsa the debut album is mostly instrumental, while "Abraxas" signaled a move toward more conventional songwriting structure, resulting in their best selling album. The sound on the HD Tracks release is crisp, clean, with a solid punch to the low end, and the guitar work is nothing short of amazing. "Santana" in high-res is classic album that is perfect for a summer day, a beer or glass of wine in hand, and tunes in the air, and "Abraxas" seems to fit the mood of a club after dark with passion in the air.
For more information on "Santana" from HD Tracks visit: www.hdtracks.com
Pure McCartney
With 67 tracks, the Deluxe Edition of Pure McCartney certainly doesn't lack for musical variety, evidence of McCartney's embrace of any genre he can lay his hands on. In the liner notes he writes that, "Me and my team came up with the idea of putting together a collection of my recordings with nothing else in mind other than having something fun to listen to from his career. Maybe to be enjoyed on a long car journey or an evening at home or at a party with friends. So we got our heads together and came up with these diverse play lists from various periods of my long and winding career. The word career is a bit misleading because to me it has been more like a musical adventure than a "proper job." It pleases me, and often amazes me, that I've been involved in the writing and recording of so many songs, each of them so different from the others."
This is an apt description of the music he assembled for this release. The HD Tracks version is 44.1kHz/24-bit, which is interesting in terms of the sampling rate, since HD Tracks has the wonderful set of audiophile non-compressed 96kHz/24bit versions of some of his classic solo albums (McCartney, McCartney II, RAM, Band on the Run) at a higher sampling rate, so it would have been nice to have had those versions on this compilation, at least for the high-res version. But, it's a fascinating compilation, an interesting running order, with many favorite tracks included, and have some favorites inexplicably missing. As one might imagine, it's a mixed bag sonically, revealing some superb production values, and some tracks that are almost painful to listen to such as "Jet" which features such overblown and distorted processing that shrill is a bit of an understatement, but the majority sound fine. Listening to the set is almost like an audio fashion show with vintage to recent, from the instruments chosen, microphone technique, and influences from disco to rock. That is what makes it so fun, it's a virtual time capsule of the past 40 years. McCartney says it was created for a long drive, so take it for a spin!
For more information on "Pure McCartney" from HD Tracks visit: www.hdtracks.com
Harris Fogel, posted 7/15/2016