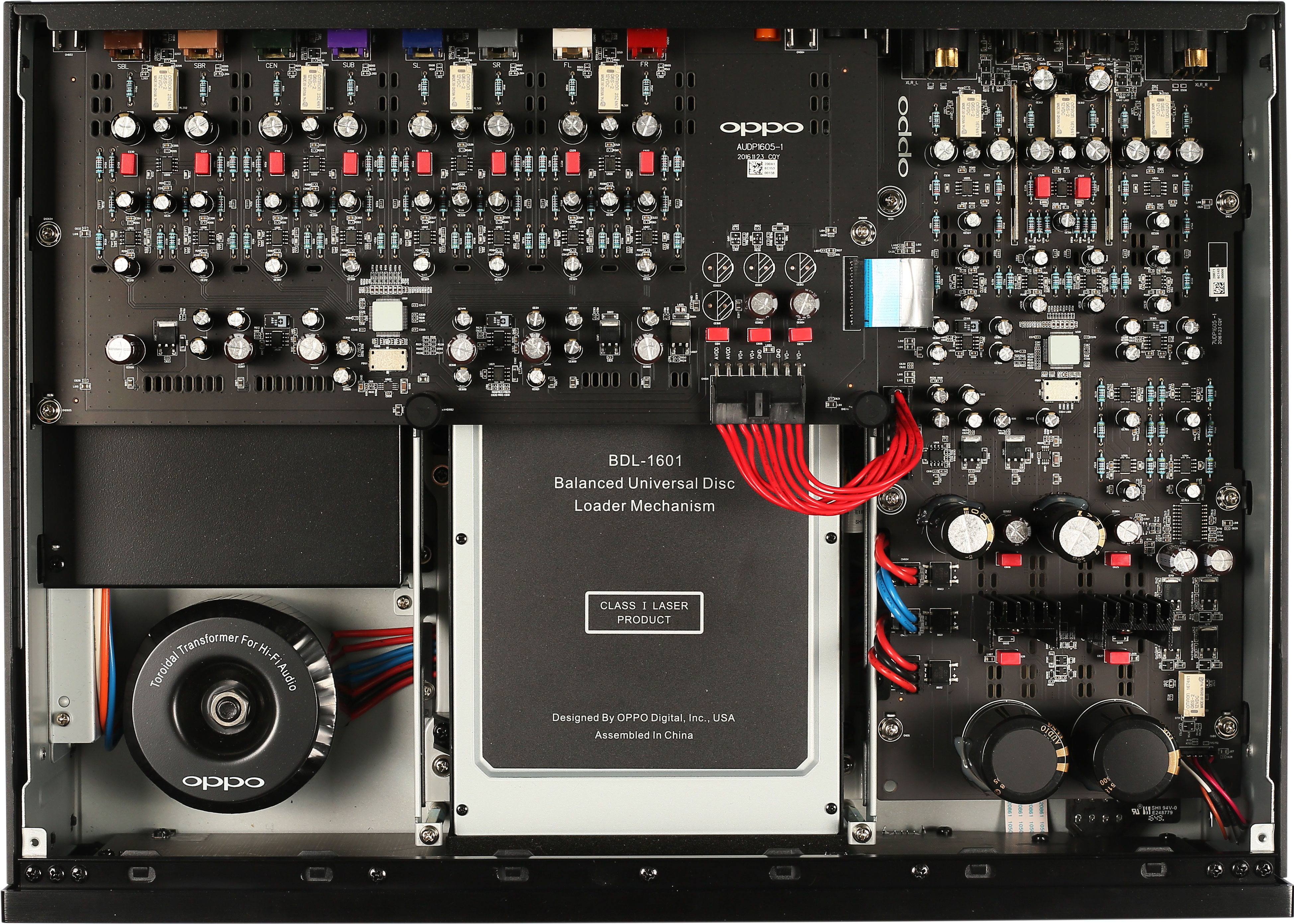 The 4K video revolution, which has now trickled down to televisions that are under a few hundred dollars, has a hungry appetite and needs to be fed content to really take advantage of that higher resolution. Enter high-resolution Blu-ray players and it was only a matter of time that Oppo, the respected manufacturer of reasonably priced, but critically adored audiophile grade gear would make the leap. Their newest model is the UDP-205 4K Ultra HD Audiophile Blu-ray Disc Player, and if you are wondering if this new unit is for you, wonder no more.
Oppo has the long view of optical disc players, starting with their early OPDV971H DVD Player in 2006 which is how their reputation for affordable gear that sounded several paygrades above their actual level began. Over the years they have continued to refine their products and now fully embrace the audiophile community. The 2015 release of their lauded BDP-105 Universal Blue-ray player was a serious no-compromise look at the state-of-the-art and the extraordinary reception it received was proof of their commitment.
How to follow the BDP-105? That is the question that Oppo needed to answer as they approached the design goals for its successor. The AV performance was already superb, as was the analog audio output. With 4K video becoming the norm, it was time to tackle the next generation of high-resolution 4K Ultra Blu-ray content. Along the way Oppo updated virtually every aspect of the BDP-105 so while the family genealogy is clear, the UDP-205 is a different beast entirely.
Physically it's a bit (1/2-inch) taller than the BDP-105, and has a similar industrial design, although the new faceplate is black anodized aluminum whereas the faceplate of the BDP-105 was a smooth matte finish. Missing from the front is the series of logos for the applications that characterized the earlier model. The new model dispenses with those smart applications with the knowledge that any recent TV model has those applications built-in. So, not a loss for most users. The output audio is based around two ES9038PRO DACs, which are the flagship of the ESS Sabre Pro series, delivering best-in-class audio performance. According to Oppo, the use of the ESS Technology ES9038PRO 32-bit HyperStream DACs for both stereo and 7.1 channel analog audio, set's new standards. As the flagship of the ESS SABRE PRO series, the ES9038PRO offers 140 dB of dynamic range. Jitter is still an issue that bedevils the design of many digital components, but the UPD-205 features a high-stability, high-precision HDMI clock and a special HDMI audio jitter reduction circuit. The design is supposed to significantly reduce jitter and eliminate timing errors when you use the audio-only HDMI output port for connecting the audio signal.
As you might expect, it sports asynchronous USB DAC and Coaxial/Optical Inputs, and an asynchronous USB DAC input supports sample rates up to 768 kHz PCM and DSD 512. For analog fans, it has a dedicated stereo output with XLR Balanced Connectors and RCA single-ended connectors. By transmitting a pair of differential signals, the balanced output provides better common-mode noise rejection and improves signal quality.
Since the primary impetus for the new model was to join the 4K Blu-ray club, one expects that Oppo would approach the standard by teaming up with MediaTek to produce and manufacture a specialized 4K UHD Blu-ray decoder SoC - the quad-core OP8591, which Oppo says offers the most advanced image decoding and processing technology available for 4K UHD Blu-ray, Blu-ray, DVD and user generated media formats. Even more important than the higher resolution offered by 4K is the upcoming High Dynamic Range sets and remastered content. The UHD-205 offers HDR and HDR to SDR Conversion capabilities along with an expanded color range and gamut allowing for more natural and true-to-life colors. The UDP-205 supports the HDR10 format, and it is also capable of providing an accurate conversion from HDR to SDR for older displays. Other features include Dolby Vision, 4K Upscaling, and supports just about every resolution and color space in the industry.
Physically, this is one solid and beefy machine. A brushed aluminum front panel and a metal chassis with the same first-class workmanship found in previous generations of OPPO universal players. Featuring a new double-layered chassis that should enhance the stability and vibration-canceling capabilities. The UDP-205 has separate power supplies for digital and analog circuitry, and the analog audio circuitry is powered by a massive toroidal power transformer, which offers superior efficiency and significantly lower exterior magnetic field interference compared to traditional laminated steel core transformers. The optical disc drive is a new design, specially built for 4K Ultra Blu-ray discs. Lastly, the audio format support has been expanded to multi-channel DSD64/128, as well as 192kHz/24-bit PCM used in high-resolution lossless formats such AIFF, ALAC, APE, FLAC and WAV. DSD64 is played back in native mode or converted to PCM, DSD128 converted to PCM. So, if there is a format out there that the UDP-205 can't play, we figure that mother nature doesn't want it played.
We have worked with the UDP-205 for several months, long enough for a series of firmware updates to have tamed some early glitches and added features including Dolby Vision, Roon, and support for the newly updated OPPO UDP-20X MediaControl app, which turns your phone or tablet into a remote that provides complete control over your player. Oppo has had iOS and Android apps for its last generation of players, so this isn't unexpected, but typical of the holistic approach taken by the company. The Oppo Sonica speaker and DAC also both depend on iOS and Android apps for operation, so the experience they gained from the first generation of player apps helped soothe the road for them with the more complex level of controls demanded by the players.
One of our favorite features of the BDP-105 was the built-in Headphone Amplifier, but it had some limitations especially with more current hungry designs. Oppo's experience with their Class A HA-1 DAC/ Headphone Amplifier led the way to the updated design. In the UDP-205 the headphone amplifier is connected directly to the ESS SABRE PRO DAC and according to Oppo offers a performance advantage over standalone headphone amplifiers. Compared to the built-in headphone amplifier in their previous generation BDP-105 player, the new design offers more power and higher performance. We couldn't find a headphone that it couldn't drive, and using the new Etymotic ER4-XR in-ear monitors, the noise floor was impressively low, and no matter the content, the output was musical, open, and airy. However, we think that at almost 22lbs most people won't be using the UDP-205 as their portable music source, but if you are located near the unit, you might stop using any other external amps.
Specs are one thing, but using the unit is the real test, and powering it up reveals a gorgeous high-definition picture, with the usual spate of controls and preferences. The options to adjust the DAC filter options are the most complete we have seen. For example, consider these available "Filter Characteristics" • Brick Wall • Corrected Mini Phase Fast • Apodizing Fast • Mini Phase Slow • Mini Phase Fast (default) • Linear Phase Slow • and Linear Phase Fast.
Ok, so what do they mean? Well, the in-depth owners-manual provides the following helpful hints "Filter Characteristics: Configure the digital filter for the audio DAC. Some customers may prefer one type of filter over others." Ok, so not that useful. We spent a lot of time joggling the different settings, but in the end the differences were so slight, that we doubted we could even hear the difference. And ultimately we went back to the default settings. But… if you don't have a life, there are a slew of ways to tweak just about every aspect of the player's operation.
We wondered how the UDP-205 would stack up against the Oppo Sonica DAC, and it was pretty much a toss-up, considering that they share a similar design and sonic aesthetic. But the Sonica DAC asks the question as to who the UDP-205 is designed for. From an audio standpoint, both offer open and airy sound, with no detectable coloration. While some in the audio community feel that there is an "ESS Sound" that is slightly harsh, in our listening this was never something we felt was a reality. If there is a characteristic of the UDP-205 it is that it's neutral with a bit of warmth. We found that it kept its audio footprint with normal Redbook CDs, DVD-A, SACD, MP3 files, as well as high-resolution FLACs and WAV files. Basically, no matter the file format, the sound quality was superb, without a hint of harshness. The level of detail, especially in plucked strings, or the shimmering of cymbals, was precise and believable.
Using our reference home theater system, a Pioneer Elite SC-71 AVR with Wharfedale Diamond 220, 220C speakers, and the D8 subwoofer with the UDP-205 at the center gave us a superbly musical performance. Bass was solid and controlled. We used the Pioneer MCACC® audio calibration software for audio equalization to normalize the room, compensate for placement distances, and linearize the spectral response. When we first tried it out in the past, we were a bit wary of the accuracy of the built-in MCACC system, but in practice it's proven to be accurate, easy to use, and impressive in taming room acoustics. For a home theater system, the UDP-205 quickly becomes the center of your user experience, and the audio and video performance is beyond compare, and nothing we have tested has equaled or bettered it.
The bottom end of high-resolution titles from the Society of Sound were noticeably rich and believable. The Society of Sound is a unique site, part label, part high resolution distribution, and always full of unique independent artists. Their classical offerings are almost always from the London Symphony Orchestra, which we find just fine, but where the service really shines are tracks from some superb musicians that you probably have heard of, but are worth of a listen. They typically release a couple of tracks a month, and while we would like to see more, it can take a while to digest their artists. They offer tracks in 16 and 24-bit formats, including AIFF, AAC Lossless, and FLAC. The UDP-205 had no problem decoding their tracks, and we find ourselves returning to 2011 release of Thomas Dolby's "A Map of the Floating City", and last year's WOMAD's festival from "Bowers & Wilkins Live", and no matter the tracks, the UDP-205 handled the content beautifully. And Neil Young's "Decade" newly offered in high-res from HD Tracks, just leapt from the speakers. The grunge of Crazy Horse matched only by the nuances of Young's vocals were consistently and musically projected by the UDP-205. With Walter Becker of Steely Dan's recent passing, we listened to Steely Dan's "Katy Lied" title, along with "Aja", long the staple of FM radio and a well-known audiophile favorite. Both titles showed their jazz chops, and while Katy Lied's legendary DBX acquired nightmares are well known, we have always found the title a great test of audio gear, and the UDP-205 was up to the task.
So, who needs the UPD-205? If you already have a BDP-105 the audio differences are subtle, although the headphone amplifier is most noticeably improved along with the new UHD Blu-ray options. Of course anyone looking for a first rate DAC with an accompanying superbly detailed analog audio stage, then the UDP-205 is a bargain. And while there are plenty of UHD + Blu-Ray discs, growth in that sector is under siege with 4K streaming options. Add in the HDR feature set, the updatable firmware, and all together it's one of the finest audiophile components on the market. For the video enthusiast it outperforms just about every component out there.
If you are primarily using the player for video and using HDMI for audio via a home theater system, then the UDP-203 might be a way to save a lot of coin without sacrificing any of that superlative video quality. The Oppo UDP-203 is substantially less money and at $549 the UDP-203 might very well be the best bargain in video at the moment. However, if audiophile level analog audio is an important goal to you, than the UDP-205 is the way to go.
One way to judge the unit is by looking at the UDP-205 and separating out its specific capabilities, and gauge how each of them performs. The answer is that it excels at each of those tasks. As a universal disc player, it can play any disc format you can think of. The video performance is superlative, with sharp, artifact free imagery, and with truly capable upscaling so that even older titles look their best. From an audio point of view, it's a no-compromise DAC utilizing the flagship ESS DACs, and from the balanced dedicated stereo outputs to surround and jitter free HDMI, there isn't an area we could find to improve. The improved headphone amplifier is better than most dedicated external headphone amps, with the added advantage of an almost straight wire connection to the ESS SABRE PRO DAC. If you broke the unit into separate components, each one would merit a top rating. To see all those functions in one beautifully designed and built component, the $1,299 price seems like a bargain to us. For anyone seeking a no-compromise DAC/Headphone Amp/Universal Disc Player with features and flexibility galore, the Oppo UDP-205 4K Ultra HD Audiophile Blu-ray Disc Player has our highest recommendation.
Harris Fogel, Posted 9/17/2017
For more information on the Oppo UDP-205 4K Ultra HD Audiophile Blu-ray Disc Player visit: http://www.oppodigital.com/blu-ray-udp-205/
For more information on the Etymotic ER4-XR earphones visit: https://www.etymotic.com/consumer/earphones/er4-new.html
For more information on B&W and Peter Gabriel's Society of Sound visit: http://www.bowers-wilkins.com/Society_of_Sound
For more information on HD Tracks visit: http://www.hdtracks.com/