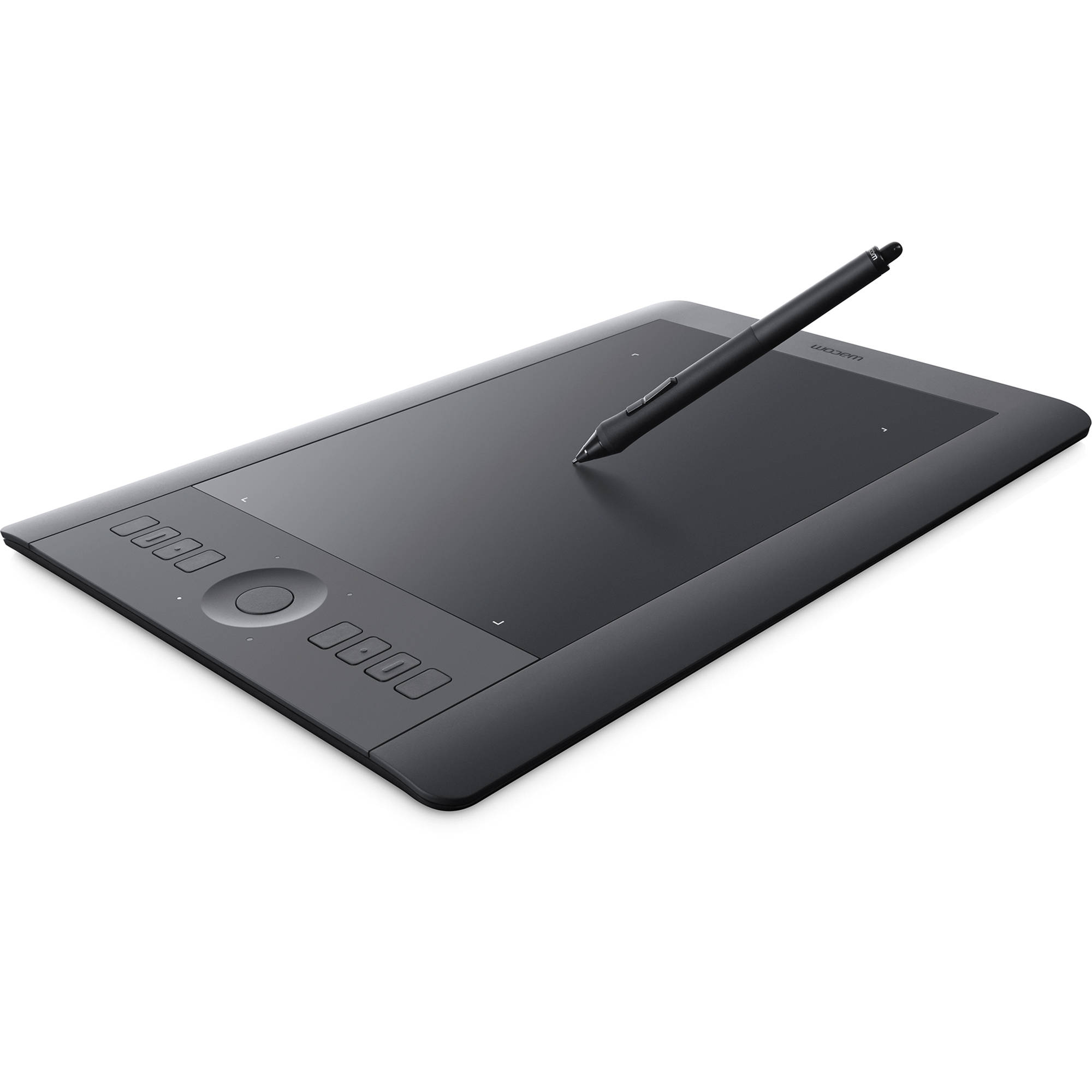 Wacom was founded in 1983, and has held the majority of the market share for digitizers ever since. In fact, most creative professionals are deeply attached to, if not in love with, their Wacom tablets. The Wacom Intuos Pro Tablet is the latest tool from Wacom for creatives who work with digital media.
The vast majority of tools in applications like Photoshop, Painter, or Procreate are "tablet aware" and the moment you plug in a tablet, the tools respond to pressure, angle, erasure, and programmable hot keys. Over the years (my first tablet was an Art Z in the 90s), Wacom has continued to refine, streamline, and increase the precision of their line. Programmable buttons or hot keys were added, the units became USB native, then Bluetooth, and they became thinner, lighter, and more capable. What does the new Wacom Intuos Pro Tablet promise users?
The new tablets feature an improved pen, the new Wacom Pro Pen 2. It comes with the Intuos Pro and Intuos Pro Paper Edition, for the best Wacom pen experience to date. The Pro Pen 2 features four times the pressure sensitivity than the former Pro Pen, delivering 8,192 levels (yes, you read that right!) of pressure. The recently released Wacom Finetip Pen, included with the Intuos Pro Paper Edition, provides smooth-gel ink for precision. According to the company, "Designed for those who begin their creative process on paper, the Finetip lets users visually depict ideas that are automatically digitized. Users can also select a Ballpoint Pen as an optional purchase." We have used a variety of Wacom pens; a favorite is the Airbrush tool, but as the pens' sophistication increased, and the pressure levels offered more finesse, we have found that we don't need those tools as often, and the new Pro Pen 2 proved a winner. Smooth, fluid, easy to use, light, and with a good balance, the Pro Pen 2 was a joy to work with.
Our model was the "M," or medium-sized version. Its measurements are13.2 × 8.5 × 0.3 inches, and weighs in at 1.54 lbs, so it's thin, light, easy to carry, and with Bluetooth, you can set up your computer and use the tablet anywhere, no cords to fuss with. There is a larger model, but we are most comfortable with the Medium version. The battery life, which has never been an issue in the past, is reportedly even better with the new models. Wacom states that "The battery lasts 10 hours for continuous usage with pen or multi-touch. If no interaction is happening, Intuos Pro will use a power-saving mode to increase battery time." In our experience, it was almost impossible to test this since, despite heavy use for hours at a time, the battery never came close to running down. Your wrist will go out before the Intuos Pro battery does.
The specs are: 8 Express Keys, Multi-Touch Gestures, Win10 & MAC OS Compatible, Touch Ring, Wacom Pro Pen 2, 8,192 levels of pressure, 60 levels of pen tilt, 5,820 lines of resolution, 200 pps recording.
The Intuos Pro is compatible with Windows 7, Windows 8, Windows 8.1, Windows 10; Mac OS 10.8 and Mac OS 10.10. or higher. We found it worked fine with Mac operating systems Sierra and High Sierra. Applications that are compatible and offer tablet aware tools include Adobe PhotoshopCC, Adobe PhotoshopLightroom CC, Adobe IllustratorCC, CorelDraw, Corel Painter, Manga Studio, AutoDesk Maya, and Zbrush, and many more.
The Intuos Pro ships with just about every accessory you might need, and a typical kit includes the following:
Wacom Intuos Pro Pen Tablet Medium, Wacom Pro Pen 2 (battery free), Pen stand (includes six standard nibs and four felt nibs), Finetip Pen (Battery-free), Paper Clip, ten single Paper sheets (A5 or A4 (depending on tablet size), Accessory soft case, 4 extra pen color rings, 3 finetip ink refills, Texture sheet sample card, 2m (6.6ft) PVC-free USB cable, and a Quick start guide.
The differences between the Intuos 5 and the Pro are subtle. For example, at first glance it appears that Pro is the same as the 5, but the Pro has a different build quality. We have always had concerns about the use of rubber coatings, with products only a few years old that can't be cleaned, the coatings are starting to disintegrate, but we haven't seen that with Wacom products. It's nice that Wacom has reduced the amount of rubber, making it less sticky. There are now four lights at the corner of the touch ring to indicate which one of your designated functions is active, which are easily personalized for those functions. We have colleagues and friends who have created some incredibly complex gestures, and hot keys, but since our work tends to be photo based, the current options offer far more than we would ever use. The number of options is so rich, it's often overwhelming, but it's great to have them. But, in the education sector where students might use a different machine on a regular basis, the ability to save those preferences is incredibly useful.
Educators have long utilized these tools to bridge the haptic world to the anesthetic touch-free palette of digital imaging software. How educators incorporate tablets into their curriculum has been a natural outgrowth of the transition from haptic (a fancy way of saying using the hand) expectation of paints on canvas, charcoal on paper, and watercolors blending to digital simulations of that. Students 25 years ago were grappling with the transition to digital imaging, and until the release of Painter, most painting tools were rudimentary. But Painter set a new standard, and fortunately for artists everywhere, Wacom tablets were there to allow a workflow that combined the hand and the digital.
Back in 1994, the first lab that this author designed which incorporated Wacom tablets was at the University of Redlands, and with the latest Macs (Quadras) at the time, the ArtZ II tablets took students some getting used to. Remember (if you're old enough) - touch screens that are part of our everyday life now were only in the movies as special effects back then, so migrating to a tablet wasn't as natural as it is today. But, as every version of Photoshop added additional tablet-aware tools, and Painter was cranking out more sophistication and nuance with each version, the use of a tablet became second nature. At about that point, Wacom went from an accessory to a must have technology. For years serious digital artists, animators, photographers, and illustrators have depended upon Wacom tablets as their tool of choice. If you have ever wondered why someone in one of those groups gave up using a mouse so many years ago, it's immediately clear the first time you use a tablet.
For academic environments, the tablets were expensive enough that they had to be locked down, and the pens checked out. That is still an approach that's useable today. Some schools gave up on loaning pens, and required students to purchase their own, while providing the tablets, while other schools checked out the tablets and pens, with students being financially responsible for them. At UArts, we ended up shifting from tablets to Cintiqs for animation and illustration students as budgets allowed. Cintiq and Intuos tablets are widely used, not only in academia, but in every creative studio we have ever visited.
Wacom also released a smaller, less expensive series to address student need, the Wacom Bamboo line, now renamed the Intuos line, with tablets that start at under $80, are affordable to most. The low pricing, coupled with high quality, means that educators on a budget can equip a lab with them. Since tablets are the norm in the industry, it's pedagogically wise to start students as young as possible with these tools, since it is the industry standard in addition to a better health practice vis-à-vis repetitive stress injury (RSI) so common with heavy mouse use. Wacom has continued to support older versions of their tablets, with a continuing pattern of updates that is admirable, and brings a sense of security that your product will not be abandoned by the company. Such customer support is increasingly rare.
For educators, administrators, or IT professionals upgrading a studio, the Wacom Intuos Pro tablet is an easy choice. There are affordable, low-maintenance variety of choices in size, features, and expense, and the Pro leverages existing computer installs. They are also portable, so perfect for a trip to a museum to teach sketching or in a life drawing course. Best of the all, students can now create a set of preferences, then download the preference file, and use it the next time they use a different computer. No time lost, straight to work.
The Wacom Intuos Pro comes highly recommended. From the aspiring artist, photographer, animator, illustrator, art student, in your midst, to the industry professionals using the best tools for the job, this product has our vote. There are a variety of bundles, plus software and other incentives, so take some time to peruse their product matrix. We rely on the Wacom Intuos Pro for all our retouching and Lightroom and Photoshop work, and frankly, can't imagine life without it. The latest incarnation is no exception, it's a superb tool.
Nancy Burlan, Frank Schramm, and Harris Fogel, posted 5/20/2018
For more information on the Wacom Intuos Pro visit: www.wacom.com