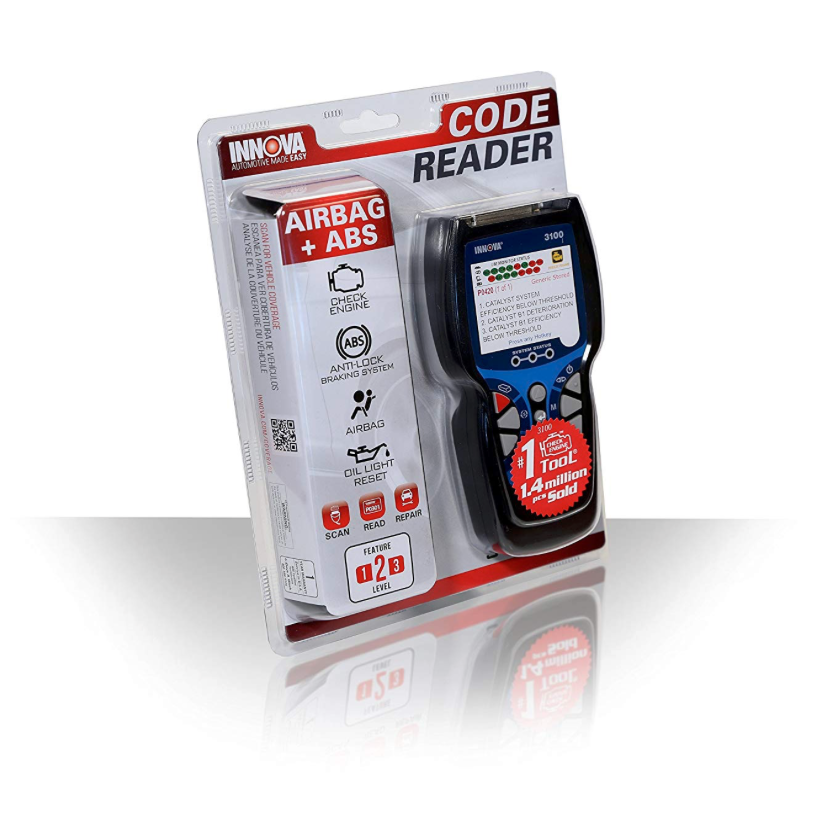 Computers have been an integral aspect of automobile design for the past 40 years. Initially they were just limited to engine controls, but now the technology is virtually unlimited and touches upon every aspect of a modern automobile. Does a lit "Check Engine" light start your day? Want to know what it means, and how to reset it? The solution is a code reader. Virtually every car manufactured after 1996 has an OBD-II (on-board diagnostics II) port.
US federal law mandates the port requirement, and it allows an onboard computer to monitor emissions, mileage, speed, airbags, ABS, and SRS, among other functions. Code Readers, once relegated to dealerships and professional auto repair shops, are now easily available, and the Innova line is highly regarded among DIY-ers and professionals alike. In this review we look at three different units from Innova – their 3160g and 3100j OBD2 ScanTools and the consumer friendly 3211a DRIVE Bluetooth Code Reader.
So what exactly is an OBD-II port? It's a small computer socket, normally located either under the dashboard, or in the engine compartment. The port itself isn't what's important, it's the data it allows you to interact with. Most drivers know the port quite well, but not as a port, but as an illuminated "Check Engine Light" that means a trip to the repair facility.
Do most backyard mechanics need a code reader? It depends. If the only car repairs you do yourself are oil changes, then probably not. But, if you need to clean an EGR valve, reset a "Check Engine" light, or confirm that basic and advanced engine functions are operating properly, then you need one in your home toolbox. One of the first steps in diagnosing and troubleshooting a problem is to use a Code Reader. Which one you purchase depends on what level of repairs you are capable of performing.
Our introduction to Innova and its RepairSolutions service to data reporting on your vehicle, came years ago when we first reviewed the CarMD, a small portable code reader that plugged into the OBD-II port. It had a unique approach. It was affordable, it read codes, and most importantly, after reading the codes, you uploaded the data to your computer using a USB cable. This is where the CarMD differentiated itself from other readers. The CarMD app created a report on the vehicle, then using data gathered through their network of ASE Certified Technicians, you received a vehicle health report including a Verified Fix, as well as anticipated repairs and costs. On the new units, that report service is called RepairSolutions. CarMD and Innova are sister companies in case you are wondering.
When our Honda Odyssey suddenly stopped running, CarMD provided a report of its problems with the EGR Valve, which turned out to be correct. But it couldn't reset the computer, and thus the "Check Engine" light wouldn't shut off, which meant that even though the valve had been replaced and the manifold traces were cleaned, the vehicle wouldn't pass inspection. As long as that "Check Engine" light was on, registration renewal was a fantasy.
How to reset the vehicle's computer? Simple, just use a reset-capable OBD-II ScanTool. We tested the Innova 3160g, 3100j OBD2 ScanTools, and the 3211a Drive Bluetooth Code Reader.
The DRIVE Bluetooth Code Reader is the easiest entry-level, consumer-friendly, portable reader we have used. It's not aimed at mechanics, but can help them in a pinch. Unlike the CarMD, the DRIVE just plugs into your car's port and stays there while you drive. It uses Bluetooth, so it communicates to your phone, and can even reset your "Check Engine" light, so for many DIY mechanics, it might be all you need. Although the RepairSolutions app doesn't currently allow you to monitor the engine as you drive, there are plans are to add more features to display more engine data, so keep a watch on their site for updates to the feature set.
We had some problems initially getting our Samsung Galaxy to connect with the DRIVE unit. The instructions tell you to turn the key on to the accessory position, but not to start the car. And when we followed those instructions, the phone refused to sync with the DRIVE unit. A few minutes later, we went for a drive, and thought I'd give the app another try while we were driving, and voilà! Success! As long as the car was running, it worked fine, but only when running. So, if you have any connectivity issues, give it a try with the engine running.
If you are serious about working on your car, then a more advanced model offers more control, features, and the ability to run tests. It's also where the product matrix starts to overlap. Innova has two lines - a consumer line and a professional line. While there isn't that big a difference between the two lines, where they differ is primarily how they reach the customer. The Innova Pro line is sold from tool trucks that visit repair shops on a regular basis, whereas the Innova line is sold through brick-and-mortar retail as well as the Internet. But in terms of features within a similar price point, the list is pretty even.
The top-of-the-line 3160g features include the ability to read and clear "Check Engine" lights on any foreign or domestic 1996 and newer OBD2 car, light truck, SUV, minivan, or hybrids; read and erase ABS and SRS trouble codes on most OBD2 Domestic, Asian, and European vehicles; reset oil light on popular OBD2 vehicles; reset battery maintenance light and initialization; and stream, record, and graph real-time live data.
You can review the data at a later time on the tool screen or using a Mac or Windows computer, although the Innova website is confusing about this requirement, as it lists a Windows computer in the main product page, but if you go to the Downloads tab, you will discover a RepairSolutions Mac version for download. The screen is full-color 3.5-inch LCD, so lovely to look at, but the key difference is the ability to read and clear the Airbag safety codes. It can also initiate test cycles of the battery, charging, and alternator systems, as well as stream live powertrain data.
We found that the new, lower priced model, the 3100j did everything we needed. Described as an entry-level device, the 3100j is anything but entry level. Similar to the 3160, the 3100j includes the ability to read and clear "Check Engine" lights on any foreign or domestic 1996 and newer OBD2 car, light truck, SUV, or Hybrids. It can read and erase ABS and SRS trouble codes on most OBD2 Domestic, Asian, and European vehicles. It has an oil reset feature that provides step-by-step reset procedures for most 1996 and newer OBD2 vehicles.
Battery and alternator tests check the performance of a vehicle's charging system.The "freeze frame" feature shows engine conditions such as fuel trim, engine coolant temperature, etc., at the time the malfunction indicator lamp turned on. You can display codes in English, Spanish, or French, and FixAssist (Fix-Tip) is a built-in database of suggestions. We found it was rock solid in use, no issues whatsoever, and at its price it's a serious tool, and highly recommended.
When we tested the CarMD, we found the detailed info on repairs, vehicle history, and maintenance tasks really useful to consumers with little or no automotive repair experience. The Innova tools take that service to a more detailed level that is beneficial for professional mechanics and seasoned DIYers. That service has been upgraded and is now called RepairSolutions. The basic service is free, and includes a summary diagnostic report which shows fault codes, fault code definitions, conditions for setting the code(s), possible causes, and layman's terminology).
Each tool includes a free trial subscription with the option to extend coverage. Just $9.99 a year gets you the Care Plan, which offers the following reports: Verified Fixes, Difficulty Ratings, Costs (Parts & Labor), Step-by-Step Repair Instructions, Related Articles, and In-depth Diagnostic Data. The Vehicle Diagnostic Data includes DTC Information, Conditions for Setting the Code, Possible Causes, Easy to Understand Definition, TSB (Technical Safety Bulletins) Related to DTC, Freeze Frame Information, Monitor Status, and Live Data Graphing. You can also get Symptom Based Reports, and InstaVIN History Report, Warranty Information, Factory Technical Service Bulletins, Factory Recalls, NHTSA Recalls, and finally Scheduled Maintenance. Don't just reset a "Check Engine" light, use the Code Reader and report to troubleshoot what caused it to go on in the first place.
Some people use the Innova Code Readers when looking at used cars as they provide an instant snapshot of the car's history and condition, from the VIN, and any stored codes, so they can do double duty to uncover unseen problems.
Innova has a full range of code readers starting at under $65 that will help any mechanic from pro to weekend warrior, diagnose, test, and repair their vehicles. The Innova 3100j and 3160g OBD2 ScanTools with ABS & SRS, & DRIVE Bluetooth Code Reader, along with the RepairSolutions service come highly recommended.
Harris Fogel with Nancy Burlan and Frank Schramm, posted 4/15/2018
For more information on the Innova 3211a DRIVE OBD2 Bluetooth Code Reader visit: https://www.innova.com/en-US/Product/Detail/3211a?r=0.028330100511728348
For more information on the Innova3160g OBD2 ScanTool with ABS & SRS visit: https://www.innova.com/en-US/Product/Detail/3160g?r=0.0332416690503254
For more information on the Innova3100j OBD2 ScanTool with ABS & SRS visit: https://www.innova.com/en-US/Product/Detail/3100j?r=0.2896216807786014