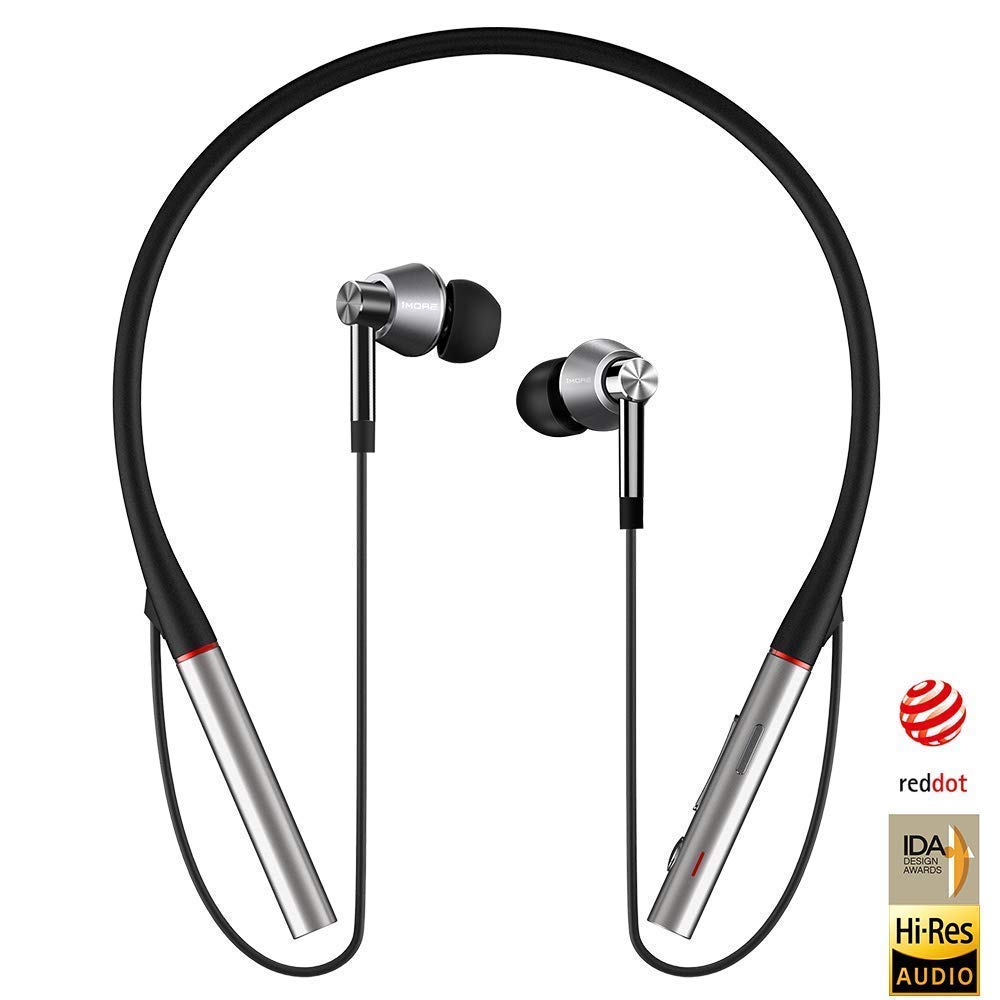 1MORE shook up the audio market a few years back with a line of meticulously designed, high quality, and beautifully packaged earphones at a price that shocked consumers. Soon, they were available everywhere from the Internet to Costco. And the buzz was consistently high, from their original models to their latest. New from 1MORE is their Triple Driver BT In-Ear Headphones.
Bluetooth is everywhere these days. We depend on it to connect with our cars, our bodies, appliances, computers, phones, alarm systems, and audio devices. Originally, Bluetooth was pushed into the public consciousness when Steve Jobs revealed the new iMac that ditched the traditional Apple ports in favor of a new, barely known standard called Bluetooth. Designed for short-range wireless connections to peripherals such as keyboards, mice, trackballs, and even small scanners. Bluetooth connected to audio devices, but sounded awful. In our interview with the founder of Etymotic, Mead Killion, he described the problems they encountered trying to develop the first decent sounding Bluetooth earphones. A problem we no longer have, thankfully.
The problem was that Bluetooth wasn't designed for high-bandwidth use, so in order for it to work, you needed to compress the data, and with audio the result was compressed, low bitrate audio. Terrible sound, in other words. Slowly Bluetooth improved, faster data rate, less compression, and when the aptX codec was introduced, finally the ideal of high-quality audio became a reality. For aptX to work it required the data to be encoded by aptX and hardware on the receiving end was necessary to decode. Soon, the aptX logo started appearing on high quality speakers, headphones, and earphones. The recent release of aptX-HD is so good that it's often difficult to point out the wireless from the wired in comparison tests. Importantly, the range has grown to as much as 100-feet, so for workouts and other tasks, you no longer even needed your phone or computer near by. The Triple Driver BT has a Bluetooth range of 35-feet, in order to prolong battery life.
LDAC is the creation of Sony, and delivers a higher bandwidth and data stream then aptX-HD, but not all devices support it. The Android Authority offers a good explanation: "For Sony, the offer to support LDAC as part of Android Oreo makes a lot of business sense. If more customers become familiar with its codec across a wider range of phones, then they're more likely to consider buying LDAC compatible audio products. We'll just have to see how this all plays out once OEMs start rolling out their own versions of Android Oreo." Well, that time is here in the form of audio products like the Triple Driver BT. the question of which technology is better is complicated. They both work well, and we are moving toward a time when wired connections will be the niche market, even for high-end audio.
The electronics are as you might expect, up-to-date. A high-resolution 16 bit/48kHz Bluetooth® chip with AAC for your iOS devices. Sony Hi-Res LDAC Bluetooth is supported; LDAC enables a data rate of 990 kbps, which is 3 times higher than ordinary Bluetooth. We would have loved to see aptX-HD in addition to LDAC, for devices that don't support LDAC. Android Oreo supports aptX, aptX-HD, and LDAC audio codecs, whereas the Mac OS does not. There aren't that many LDAC devices out there from vendors other then Sony, so 1MORE's decision to forgo aptX in favor of LDAC is interesting, and Apple iOS users are covered with support for AAC. In theory the best audio quality will be from a high-resolution non-compressed file, over LDAC from a supported device, either from Sony or Android running Oreo. To learn if your device is using your preferred CODEC, this article by John Darko is a well-written guide.
This is in fact our first device with the LDAC logo on the box.
With the competition for Bluetooth earphones at an all-time high, 1MORE knew they needed a product that met their usual standards, but also distinguished itself with a rich feature set, and stylish design. We are happy to confirm that the 1MORE Triple Driver BT In-Ear Headphones achieves those goals and more. Packaged in their trademark magnetically sealed box, the unboxing experience is first-rate. When we first reviewed their Double Driver models, we noted that it was on par with Apple packaging.
According to 1MORE's Ari Morguelan, packaging design, fit and finish, and accessories, all needed to be first-rate to create an impression distinct from their affordable price point. That tradition continues with the new packaging, an elegant silver and white theme, with an understated reddot award 2018 Winner logo. Opening the box reveals the earphones, a USB Type-A-to-USB Type-C cable for charging, nine sets of ear tips in both foam and silicone, and to round things off, a nice little bag for storage.
The neckband is soft, flexible silicone, and we found it very comfortable. The controls are on the left side the earphones, and have all the expected ones: volume, play/ pause, the power/pairing button, and the microphone. The earpieces are similar to earlier models, and are constructed out of metal, and have a smooth satin finish. As advertised, there are three drivers, one dynamic driver and two balanced armatures in each earpiece. Similar to the earlier Triple Driver models, the advantage of the additional dynamic driver is the promise of a more pronounced, punchy and dynamic bass signature.
One of my favorite features is their Fast Charging mode. Running late and forgot to charge them? No problem, Fast Charge them for ten minutes and you gain 2 hours of use. 1MORE claims 7 hours of use on a charge, and we found that was accurate. It's remarkable they have as long a battery life as that, considering that decoding of high-bandwidth files can be battery intensive. There is a companion app, "1MORE Assistant" that offers four features: One key to burn-in headset. Quick connection for Bluetooth headset, 1MORE magic button to launch 3rd party app, and Smart EQ and music player. It's not specific to the Triple Driver BT model.
All the technological discussion is largely irrelevant if the earphones don't sound good. So, how is the sound? Quite lovely it turns out. How to describe the sound? Solid, with clean precise highs. Songs have a solid punch on the bottom end, but it isn't muddled or indistinct. We found that the soundstage was quite wide, allowing instruments a sense of air to their placement. Burn-in helps, we didn't use the app, instead just plugged them in and let the computer stream music 24/7. The same thing happened with the earlier Triple Driver model, at first the sound was a bit muddled in the mid to lower bass registers. Although we have never been convinced of the mythology and the efficacy and reliability of burn-in, but if there are components that seem to improve over time, it's dynamic speaker elements. And these improved over time.
Listening to "Apart," the recently released EP from Pete Yorn and Scarlett Johansson reveals the Triple Driver BT's inherent musicality. Their first duo outing was the 2009 album "Break Up?", and Qobuz has the title in high-resolution 24 bit / 48kHz, Johansson is once again the surprise weapon, giving the tracks a breathy sensuality, coupled with Yorn's bedroom voice, results in a wonderful collaboration, Most people only know of Johansson as actress in Hollywood blockbusters will be caught off guard by the intensity of her performance. On the Triple Driver BT earphones, the bass is sold and percussive, and the treble isn't brittle, but open and clear.
The remastering, again, of the Beatles "White Album" is a further dusting off of that masterpiece. In the new version, the guitars are gritty, believable, and enticing. You just want to listen to the album, first to hear the difference, and once that is behind you, to crank it and feel the tension, empathy, and humor that the album so gleefully skew. The Triple Driver BT earphone provided what seemed like a flat response, with no particular bass boost, just a tonal balance we would describe as warmth. Lovely.
We recommend the 1MORE Triple Driver BT In-Ear Headphones without reservation. They have a great soundstage, solid but not intrusive bass, and clean smooth mid tones and high frequency reproduction that is never brittle or too bright. They received the prestigious reddot Award 2018 Winner honor for a reason, and they're an affordable way to bring true hi-fidelity musicality to your wireless world.
Harris Fogel, Nancy Burlan, & Frank Schramm, posted 11/26/2018
For more information on the 1MORE Triple Driver BT In-Ear Headphones visit: https://usa.1more.com/collections/headphones/products/1more-triple-driver-bt-in-ear-headphones