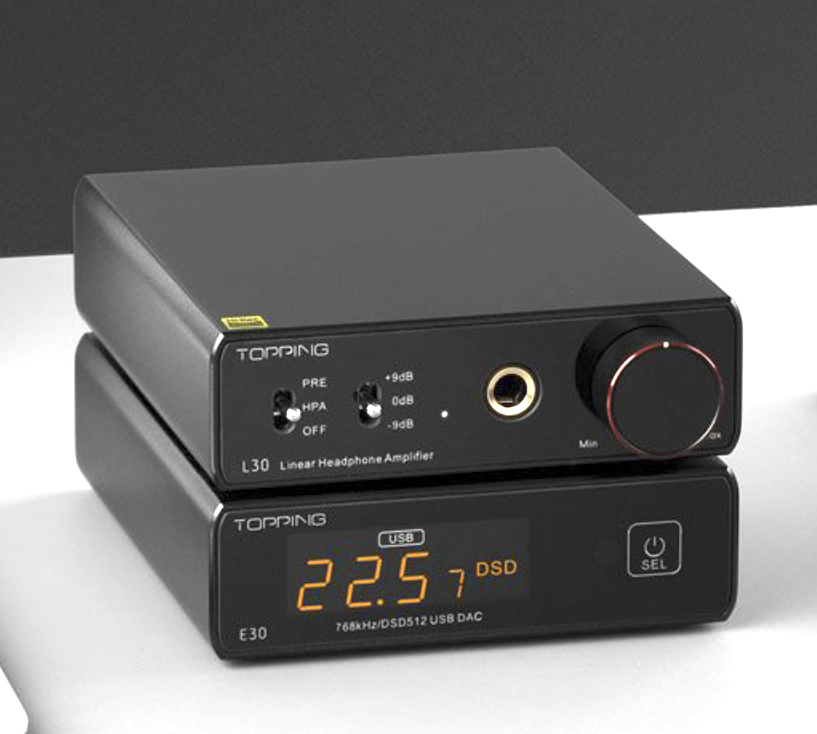 The audiophile's holy grail used to be, great sound on a budget. Of course, now that some folks will pay fifty grand for a cable, the budget bit is a bit topsy turvy. But for most of us in the real world, the word is that a Chinese company, TOPPING, is delivering great products, at entry level price points. Two products, the TOPPING E30 DAC and L30 Headphone Amplifier are inexpensive, yet boast a feature set of far more expensive components. They meet just about every possible spec wish list on the books, (with the exception of MQA) to high-resolution audio. On the recommendation of a few colleagues we reached out to Apos Audio, who distributes the TOPPING line, promptly sent out review samples.
Confession time. Apos Audio sent me those two units a while back, ok, six months in fact, and they have been incredibly patient about this review. But, life happens, and with the pandemic, construction dust, travel, and chaos, finding the time to just sit and listen, seemed in short supply. The truth is, that the long term effect of this pandemic, is a form of exhaustion so that while you have the time, you might not have the attention and energy. Luckily, the best cure for that, are fantastic tunes, pumping through a serious set of headphones. A kit for all ages.
There was an announcement about a recall for the L30, but Apos assured me that the problems were very rare and they had confidence in my review sample. Here is that update from the Apos Audio website.
Update on TOPPING L30 Amp (From Apos Audio)
"We want to start by thanking everyone who's bought a TOPPING L30 Headphone Amp from Apos Audio. We're incredibly proud to sell this high-performing amp, and it seems that the Apos community loves it as much as we do.
We understand that some community members are concerned that their TOPPING L30 could potentially damage their headphones or IEMs. Our team has taken note of all concerns and is actively helping our customers. We want to clear the air and share with you what steps we're taking to ensure the performance of the TOPPING products we sell and the longevity of your headphones and other gear.
The concern is about a terminal electrical breakdown in the amp that could potentially compromise headphones in rare circumstances. Although it's statistically unlikely for you to encounter this issue with your L30, we want to do everything we can to ensure the issue is alleviated.
As a precautionary measure, TOPPING identified an opportunity to further improve the efficacy of the DC protection built into the L30. Since December 2020, TOPPING implemented improvements to the protection circuit in the L30. These improvements will further protect any headphone or IEM plugged into the L30 from unintended damage, even in the most extreme of failure scenarios. All L30s that include these improvements can be identified by a serial number starting with "2012".
As of Monday, January 11, 2021, all TOPPING L30s sold on Apos Audio will have a serial number beginning with "2012" or higher. This serial number denotes the new batch of units, in which more safety measures have been implemented. If you own a TOPPING L30 with a serial number beginning with "2011" or lower and are concerned about the operability of the unit, please feel free to reach out to our Support Team."
To be clear, at Mac Edition Radio, we have had no issue with our sample L30, but it would make sense to look for a "2012" unit moving forward, and address any recall opportunities if you have an older, affected version.
Genre?
I'd like to say that the E30 and L30 favored a genre of music, but honestly, I can't. They handled everything we listened to with aplomb, allowing the music to be open and airy, lots of soundstage, and dynamic punch. I don't have their big brothers, the TOPPING E30 Pro and L30 Pro, to ascertain the difference between them. The noise floor is commendably low, non-intrusive when using in-ear monitors, but the focus of this review was with headphones. I considered these as a "combo", although they call them an ensemble, either way, they are uniquely separate components.
Most folks I know, use them as an "ensemble". They are certainly usable on their own, and thanks to the optical input, you can even toss the E30 at the output of a television, Roku or Amazon streaming stick, with greatly improved sonics. Or as a powerful step up from the built in DAC of a computer. With Apple unleashing high-resolution audio to the masses, this is the perfect way for folks to join the world of high-resolution at a minimal cost.
The E30 doesn't come with a power supply, depending on the host's USB port for power. There is an optional supply, and we swapped out the power supply that came with the L30. We couldn't ascertain a difference between the two, but we advise that folks might consider having dedicated power supplies for each unit for more critical use.
Amir, the Founder of Audio Science Review, found that the quality of the power supply and it's impact dealing with "dirty"AC power, has less of an impact on some components that one might assume, leading to his conclusion that power conditioners weren't all they are said to be. So, it might not be all that important. At any rate, we did our testing with the supplied cables and power supply.
The fit and finish are better then expected at this price, and we love the OLED display on the front.
E30 Specs
D/A Chip: AK4493EQ
Inputs: USB-B, Optical, Coax
Outputs: RCA
THD+N: 0.0003% Crosstalk: < -130dB S/N Ratio: 121dB
Dynamic Range: 119dB USB
Sample Rate: DSD: DSD 64-512 (native) PCM: 44.1-768kHz, 16-32bit
Coaxial & Optical Sample Rate: PCM: 44.1-192kHz, DOP: DOP 64-256
Remote Control
USB Type-A DC cable for power
USB cable for data
How does it sound?
Incredibly good, especially for the price. First of all, even though I've mentioned the price point several times, I think it's reasonable, to just set price point aside, and forget about it. The price doesn't matter, the brand doesn't matter, and personally, I don't think looks matter all that much. I'm not using this gear to show off, and I could care less if anyone I know is impressed, or not impressed by the gear. All that matters, and I repeat, all that matters is the sound. This little combo rocks.
One would be hard pressed to find any sonic issues with the combo. It can decode just about anything under the sun, including high-bit DSD, so that DSD Goddess, Cookie Marenco, is happy. PCM, no sweat, optical, no sweat. The L30 amplifier can drive just about any headphones or in-ear-monitors, no matter the impedance, or how power hungry they are. The bass is tight and controlled, and the high-end is precise, with no blurring or sibilance, making you love cymbals all over again. We listened to classical, jazz, metal, and the blues.
From Steve Reich to gospel, music was fluid, with a believable musical presentation. How much of that was due to the DAC or to the amplifier, I'm not really sure, but the ensemble was a consistently easy and enoyable listen.
For the audiophile who lives to geek out on messing about with settings, you can adjust the filter on the DAC, but in our listening, we found the initial default setting was just fine. But, some audiophiles gotta tweak, so it has the requisite amount of tweakability. We'd rather enjoy the music, but others, well, if there is a filter to try, try they must. Do not try. Tweak must you. While these aren't luxury units, the finish is nicely done, and appropriate at this cost.
As mentioned before, we enjoyed the LED display on the E30, it's always nice to know that things are working the way you intended and expected. With many DACs, there isn't a way to ascertain if things are decoding properly. Some player software does attempt to tell you, but the best solution is a display on the DAC. So, we have come to feel that displaying bitrate and depth isn't just eye candy, it's an important, almost essential feature, that surprisingly few DACs have, especially at this price. Interestingly, streaming some video through it for the audio, provided some interesting numbers, 44.1k for the most part, but once in a while 48k, and higher, which I figured was an anomaly.
L30 Specs:
Outputs: RCA Out, 6.35mm Single Ended
Inputs: RCA In
NFCA (Nested Feedback Composite Amplifier)
Ultra-Low Noise of 0.3uV
Dynamic Range of 141dB
Can drive sensitive IEMs to power demanding headphone
Pre-Amp Functionality
What TOPPING Says
According to the company, the TOPPING L30 Headphone Amp is described as "the companion to the highly reviewed TOPPING E30 DAC. It can be used as an amplifier or a pre-amplifier, comes equipped with NFCA modules like that in TOPPING's flagship A90 Amp, has 3-step gain settings, and is certified Hi-Res Audio. It comes in four colors: black, silver, blue, and red." According to Topping, "The L30 uses a NFCA (Nested Feedback Composite Amplifier) that allows it to drive low impedance headphones with ease. It has an ultra-low noise level of 0.3uV that blows out the competition, while producing a high dynamic range of 141dB with no audible noise or dark backgrounds in sensitive IEMs."
While we don't know anything about "blowing out the competition", but they're certainly quiet, even with some notoriously sensitive IEMs.
TOPPING also states that the "High voltage swing of 26Vp-p, power of 3600mW per channel, and output impedance of less that 0.10 ohms, let the L30 drive power hungry headphones with wide range of impedance. The three gain settings add to the ability of the L30 to drive a wide range of devices. Finally, the L30 can also be used as a pre-amp and again produces high performance numbers. Output impedance in pre-amp mode is as low as 20 ohms."
From our use, the L30 and E30 live up to the advertising. We aren't really sure what makes the "NFCA (Nested Feedback Composite Amplifier)" any different, than other companies amplifier modules, but it's a nice move utilizing the same the tech as some of their more expensive products. Between the E30 DAC and the L30 headphone amp, this is a very quiet ensemble, with enough punch and dynamic range to drive a wide variety of phones. We tended to use the gain control at its highest setting.
Importantly, it gives other similarly priced products from folks like Schiit Audio a run for their money. Our only caveat is, if you are a fan of MQA, you might want to look elsewhere. Sure, you can set your music player to use the DAC as the secondary renderer, and it will work just fine. But for hardcore MQA fans, you'll probably want hardware supported MQA unfolding. Accordingly, the E30 might not be your first choice.
The specs and advertising are one thing, but did they live up to it? The answer is yes. We were happily surprised as just how good this lovely, affordable, musically strong, bit of kit, this is. For a few hundred dollars, they will make your days and nights filled with fine music, and leave enough money left over for some great gear, like the new HIFIMAN HE-R10D dynamic headphones, or the newly announced Apos Caspian Open-Back Headphones when they start shipping in the fall of 2021. We're hoping that we can hold on the E30 and L30 ensemble, to try the new Caspian headphones.
The Topping E30 DAC and L30 Headphone Amplifier come highly recommended.
Harris Fogel & Nancy Burlan, Posted 7/26/2021
For more information on the Topping E30 DAC from Apos visit: https://apos.audio/collections/dac-digital-to-analog-converter/products/topping-e30-dac
For more information on the Topping L30 Headphone Amplifier from Apos visit: https://apos.audio/collections/top-sellers/products/topping-l30-headphone-amp
For more information on the HIFIMAN HE-R10D dynamic headphones visit: https://hifiman.com/products/detail/308
For more information on the Audience OHNO RCA Interconnect Cables visit: https://audience-av.com/cables/ohno/